Business Cards
Sizes. Paper stocks. Finishes. Now you can create a card as unique as you.
Browse now
Reorder

Shop by shape
Set yourself apart from the start with a bold and innovative card shape.
Classic stocks and finishes
An assortment of materials, textures and finishes to get you noticed.
Popular designs to jumpstart your branding
Get started with our popular design templates, then add your unique custom touches.
Specialty stocks and finishes
Make a statement with our selection of specialty cards for unique projects and needs.
Business card holders
Your card deserves a little something extra - impress with a luxe holder.
Find ideas and inspiration for your business card
Practical tips and inspirational stories about looking professional and unlocking opportunities.
Make a great first impression with a personalised business card design.
Getting customers starts with getting noticed, and your business card is your chance to tell potential clients who you are, and what you represent. Whether you hand them out at events, include them in product orders or keep a stack on your front desk, make sure yours stand out. Creating your business cards online with Vistaprint is simple, and you can design business cards for any industry using our gallery of templates or upload your own image to get started. We have a variety of finishes and shapes to make your card unique and you can even browse our handy business card size guide to find the right fit for you.
See how people are using their cards
Upload a photo with your new product. Tag @vistaprintaustralia for a chance to be featured.
Look your best.
With help from our experts, you can create a professional-looking business card that's just right for you.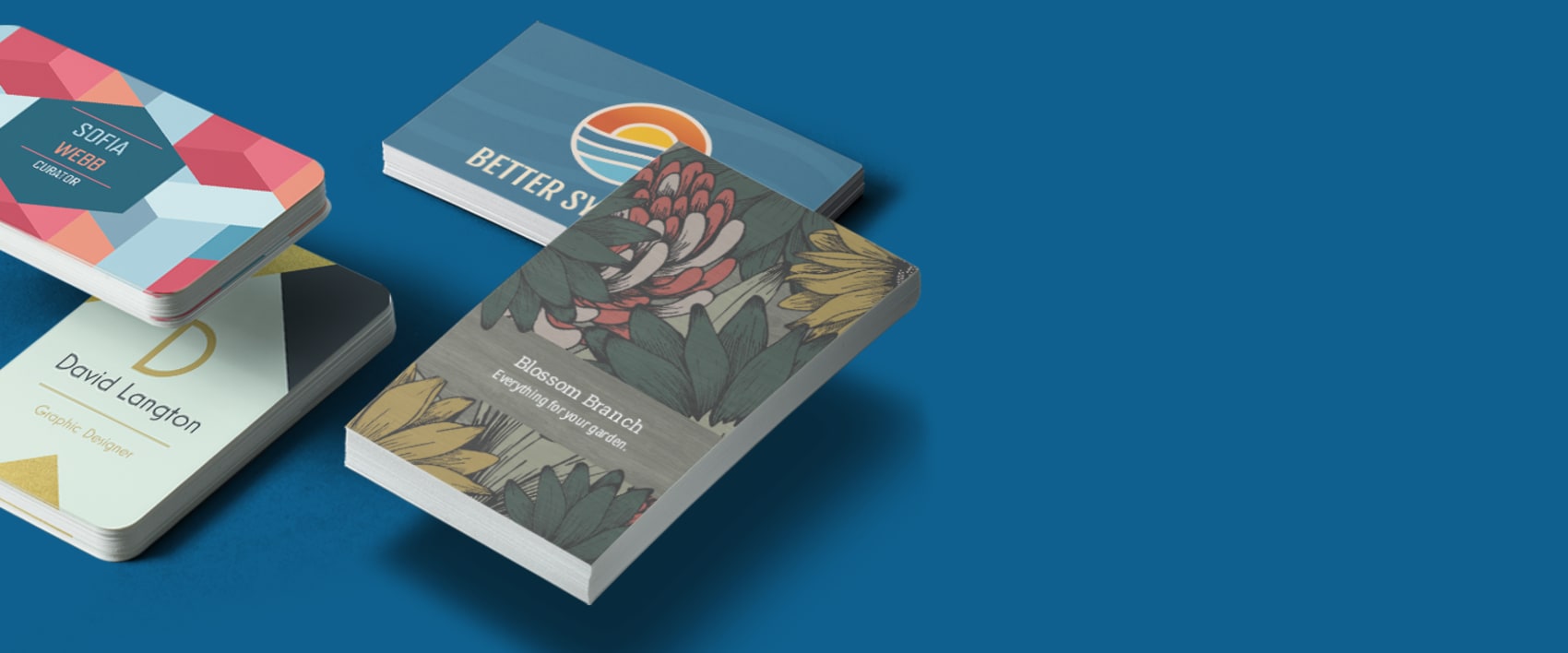 Frequently Asked Questions
Business card thickness is usually measured in "grammes per square metre" abbreviated as "gsm" The higher the number, the thicker the card. Standard business card thickness is 360 gsm, but weights can vary by paper type.
Here's a quick rundown of standard business card sizes:
Business card size in mm: 91 x 55 mm
Business card size in Photoshop: 1050 x 600 pixels
We also offer square or rounded corner cards, which are a little different than typical business card sizes. Also, when you're designing or choosing a template, remember that business card dimensions may include a "bleed area", which is extra space for images, patterns or design elements that extend beyond the cut edges – this helps prevent having white edges around your finished card.
If the information is still mostly correct, you can keep them as backups by crossing out the out-of-date info and writing in new text. If the cards are mostly inaccurate, we'd recommend recycling them.
We'd recommend using one of our business card holders, available in an assortment of different materials and styles.
Traditionally, business cards have a horizontal layout, but if you're going for a different, modern feel, we have a lot of templates for vertical business cards too. As far as specific design layouts are concerned, we have thousands you can quickly sort and browse by industry, shape, style and more.
---